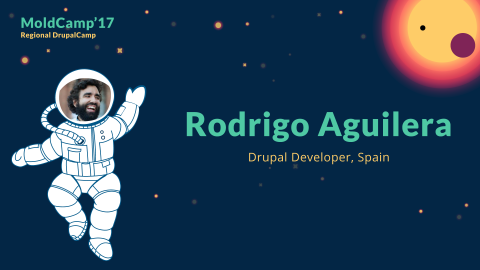 During Drupalcon Vienna the people from Drupal Moldova association invited me to be a featured speaker at Moldcamp 2017. I felt honored so reserved that weekend to go to the beautiful city of Chișinău.
Despite missing the whole Friday night and Saturday flying due to technical problems with my scheduled flight I got the chance to enjoy the Sunday with the blooming Moldovan Drupal community.
Rachel Lawson gave a very inspiring keynote about how to get involved in the Drupal community to improve your professional profile and skils. This is one of the moments you realize how amazing is the Drupal community giving opportunities to so many different kind of people.
My session was about the PHP tool composer and how to squeeze a bit more out of it. The slides are available online. I got good attendance and nice feedback about how to use composer to share common dependencies between different sites that are produced starting from a similar base.
Another interesting session was by Adriana Mosnoi presenting how they created a very nice user experience with the contributed module paragraphs in the early days of Drupal 8.
The overall feeling of the event and what you extract from talking with the locals is that the IT industry is one of the fastest growing business in the republic of Moldova and opportunities like Moldcamp are key to create a good local ecosystem of companies, freelancers and contributors. I Hope to see everyone again in the next Drupal event.